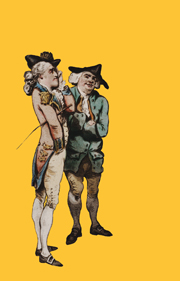 "In the Midst of the Jovial Crowd": Young James Boswell in London, 1762–1763

April – mid October 2013
The Lewis Walpole Library
154 Main Street, Farmington, CT

Curated by James Caudle, Associate Editor, Boswell Editions

James Boswell, an ambitious and jovial twenty-two-year-old Scotsman, traveled south from Edinburgh to London in the autumn of 1762 to seek his fortune in the capital. London in the 1760s was a thrilling place, full of pleasures and dangers, wisdom and folly, high life and low life. This exhibition evokes young Boswell's experience "in the midst of the jovial crowd." A selection of prints by William Hogarth, Thomas Rowlandson, and others, as well as rare books, ballads, and manuscripts, capture a sense of the current events, everyday social life, and personalities celebrated in Boswell's London Journal.

For more details and exhibit opening times, click here.