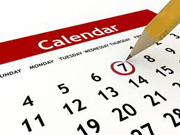 Arcadia Year 5!

What? You couldn't go to the brown bag lunch! Here's another chance. Think ahead. The Arcadia call for year five grant projects will be made in January with a deadline for submission in March.

There will be a presentation and question/answer session on Friday, December 14th at 12:00 pm in the SML Lecture Hall. Representatives from Digital Initiatives, Catalog Metadata Services, Preservation, Library IT, Arcadia, and the Library Business Office will talk about how to use the new project planning guide and answer any questions you may have about proposing current or future projects. Read more...
Tom Cramer discusses Hydra and Blacklight

Tom Cramer (Chief Technology Strategist & Associate Director, Digital Library Systems and Services, Stanford University Library) visited YUL on 11/26/2012 to discuss our repository infrastructure decisions and to speak about The Hydra Project. Since Michael Dula and the infrastructure working group have decided to use the Hydra repository framework, you may want to learn more about how the Fedora Commons Repository on top of which other applications, called Hydra Heads, will handle customized collections and functions.

One of these heads is called Blacklight, a default user interface which is customizable allowing different displays for different types of information or digital objects. Blacklight interfaces can offer faceted browsing, relevance based searching, bookmarkable items, permanent URLs for every item, and user tagging of items. As Susan Gibbons commented in her weekly update on 12/2/2012, "This decision was a major and critical step towards developing our digital infrastructure strategy, and it places us in the same digital strategy 'boat' as Stanford, UVa, Columbia, Northwestern, Penn State, Indiana University, WGBH, etc., which I think is a good boat to be in." Read more...